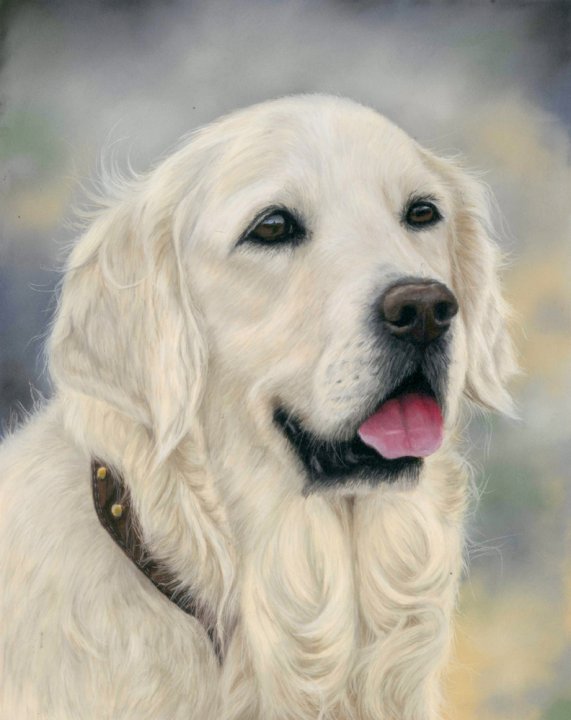 Tia Golden Retriever Dog Portrait
Sarah it looks absolutely fantastic. Hopefully you will get a lot of interest from golden retriever owners as we have posted it on a couple of sites. Also a lady we know has asked for your details regarding her border collie.
Read more about Tia's portrait here and more dog portraits can be viewed in the Gallery
Dilon, Cocker Spaniel Dog Portrait 20×16 inches
The Portrait of Dilon arrived today.
Just like I remembered Christmas, as I unpacked the cardboard container I could feel the excitement building. Looking at the Portrait was one of those wonderful sights that you experience in your life. Its as if Dilon was in the room giving me that familiar look of when are you taking me out.
We are very grateful to you for the portrayal of a very special friend and will, for a very long time, hang in prominence.
Thank you again, James Fergus.
Remi, 10×12 inch Dog Portrait in Pastel
Thank you so much for creating such a beautiful piece of artwork of Remi. We gave Mum her present today and she cried (and we all cried as well!)
I could tell that she absolutely loved it and we do as well. I don't think you could have done a better job – it is perfect! Mum kept on saying 'it looks so much like her!' over and over after she opened it. She has already been around the house and decided where it will go. She has chosen the lounge 'so she can look at it often'.
Thank you so much! My sisters are already in talks about getting portraits done of the other dogs who have already passed away so you may hear from them at some point. I will definitely be recommending you to anybody who asks.
Cid the Poodle Dog Portrait in Acrylics, 8×8 inches.
It's amazing and you have captured his happy spirit. Working through 1000s of photos to look for the right one for Dougal. Dylan and Ruby were easy. Can't wait to have the Sarah Leigh collection
The handsome Cid is one of a series of pet portraits I have started painting in acrylics. Read about the learning curve with this medium and how much fun it is.
Morgan, Labrador Pet Portrait on Deep Edge Canvas.
Hi Sarah Just letting you know, I have received Morgan's portrait. One word 'Fantastic' Love it, thank you so much Best Regards Alan Cleaver
Read more about this pet portrait here
Melody, Chico, and Urchin dog portrait on deep edge canvas 30×40 inches
LOVE LOVE LOVE LOVE
wowwwwwwwwwwwwwwwwwwwwwwwwwwwwwwwwwwwwwwwwwwwwwwwwwwwwwww
that's soooooooooooo incredible
i absolutely adore it
the colours are stunning!
their faces!!!!!!!!!!
wow
Thank you so so much!
Margo and Maggie, Double Jolly Splashes Painting
I'm so pleased how this turned out.. the photo doesn't do this justice. It's so amazing when looking at the real thing. Thanks you so much Sarah for an amazing job.
Pugsley, Horse portrait in Pastels 14×18 inches
I have just viewed your latest portrait, that of The Phantom P.( His full title). It is absolutely wonderful and I don't know how you do it. It must be very rewarding to have to have such talent. Sometimes it makes me want to weep when I see what some skilled and talented people are capable of doing with their hands.Of course Sian will love it.
Thank you very much, I will let you know how she reacts, but I know it is going to make very happy.
Kind regards. N
Pugsley, Horse portrait in Pastels 14×18 inches
Filou, the stunning Korthals Griffon was gifted to my clients wife. They were over the moon with the portrait.
Caroline was really happy with her present. There were a few tears as we've only lost him in March but we're both so happy with it. It's joyful, really captures him at his maddest and that day was great fun for everyone. It's also very well mounted and it's now in its place for all to see.
Also thanks to Richard for the personal delivery. All in all, I look forward to see how that side of your art develop and it might not be the last time we get a commission.
Bella, 16×12 inch Dog Portrait
Bella is a beautiful GSP I was honored to paint. My client was delighted along with the birthday recipient! You can read about her portrait in her very own blog
Dear Sarah
Andy loves the painting so it has been a great success as a special present. Thank you so much for doing it for me.
Best regards
Lesley
Double Horse Portrait 20×16 inches
This gorgeous double horse portrait took me well over a week to complete, but my client was over the moon with the final piece
Hi Sarah,
It's now on the wall and my mum can't stop talking about it, she's so pleased with it.
Your very welcome to use it on your website and thank you again for all the all hard-work, it's beautiful xx
You can read all about the portrait and see the portrait in full and in it's frame in the blog.
Oscar 10×8 inch Pastel Dog Portrait
It's been a long time since I got a Westie to paint.
Oscar was commission as a gift to my clients parents.
Dear Sarah
Our daughter Ruth Sturdee has presented us with the portrait of Oscar our West Highland Terrier. I had to write to you to tell you what a wonderful portrait you have produced. It is perfect and you have caught Oscar exactly as he looks. We are thrilled. We now feel we have two Oscars !!
You are so clever and talented.
Thank you for painting Oscar and we wish you continued success with your painting in the future.
With best wishes
Richard and Stephanie [Allen]
Rafiki 14×11 inch pastel horse portrait
Hi Sarah, I writing to you, to say a huge thank you for the commission of my mare that I received from Gregg yesterday. I absolutely love it and it is so like her, it's as if it was a photo of her.
Thank you so much it's incredible.
It really made my Christmas as it portrays her down to a T . Thank you so much.
Paddy 10×12 inch Pastel Dog Portrait
I just wanted to let you know that my brother loves the painting of Paddy. He is really difficult to buy for so to have achieved the reaction we did with this was really very special!
We're all very impressed with the way you've captured the detail and that roguish look in his eyes, thanks very much indeed, it's truly fabulous.
Lottie 10×8 inch dog portrait
I went home at the weekend and gave my parents the drawing of Lottie, they were thrilled with it!
Thank you so so much for the gorgeous drawing that really captured Lottie and her personality!
Also, thank you so much for the extra goodies you gave us!
Elmo and Lui 13×11 inch Pastel Portraits
Hi Sarah! Look what arrived today!! They are without doubt supercalifragilisticexpealidocious!! I did try my hardest to get Elmo and Lui to model them for you but Lui wasn't having any of it!! Hee! Hee! You are one very clever and talented lady! Thank you so very much and I praise the day that your website turned up in my google search for dog portrait artists!! Kindest regards Claire Xxx
You can see a time lapse of one of the portraits here and these blog posts show more of the portraits progress in this blog and this blog too.
Do not look any further for a portrait of your pet – I contacted Sarah to paint portraits of my 2 chihuahuas after her website came up in my search – her work looked amazing and so lifelike. So I sent her some photos of them both and she started – I was completely involved at every stage and she also sent me photos and time lapse little videos showing her progress.
I was completely and utterly blown away with her finished results – everyone who sees them asks if they are photographs! They are much better than photographs – they are alive! I then asked her to do 2 more portraits of my two previous chihuahuas as the ones I'd had done previously were not a patch on hers. She worked miracles with the few photos I sent her especially as some of them were of poor quality. I have just taken delivery of those and they made me cry when I saw them – again they came alive under Sarah's fingers.
Sunny 10×12 inch Dog Portrait
Dear Sarah,
Just a quick email to say that we received Sunny's completed portrait safe and sound yesterday and that we are delighted with the result, your attention to detail and the fantastic eyes have really caught his character. We are now in the process of having it mounted and framed and then it will take pride of place on our lounge wall.
Once again thank you very much, you are a very talented and gifted artist and we would not hesitate to recommend you.
Kind regards
Peter
Henry 10×8 inch Pastel Portrait
Hi Sarah
I just wanted to let you know that my husband absolutely loved the portrait, he can't believe that you have managed to capture him so well working just from photographs. It will certainly take pride of place in our living room.
He also admired the frame, thank you so much for all your help and advice.
I am grateful to Natalie that she saved my a journey, but it would have been so nice to meet you and thank you in person.
Warm regards
Janet
Gremlin and Rascal Pen and Watercolour Pet Portrait
Hi Sarah,
Just wanted to let you know that Gremlin and Rascal have arrived safely and I couldn't be happier!
Even though they are mice, they still had big personalities and you have captured them perfectly in your art.
Sadly they are no longer with me due to illness but this picture is a wonderful reminder of them before hand and I can't wait to put it up on my wall.
Many thanks again Sarah,
– Cory
Archie 10×8 inch Dog Portrait
Hi Sarah
We received Archie's portrait yesterday – its fantastic, we love it. It captures Archie perfectly.
THANK YOU SO MUCH
– Kate.
Alfie 10×8 Inch Cat Portrait
Hi Sarah
Today I received your portrait of my much loved cat Alfie, as a surprise birthday present from my fiancé Andrew. It is such a beautiful portrait that looks exactly like the original photo; you captured his inquisitive little face perfectly!
The mount and frame suits the portrait really well too and makes Alfie looking very distinguished!
It is a perfect gift that we will have forever!
Thank you very much,
– Catriona
Taz 11×9 Inch Dog Portrait
Hi Sarah,
Just thought you would like to see my mum with her picture, she was over the moon with it, and has put it where she can look at it all the time. She said you captured Tazzy and it will give her great comfort.
Thank you. Regards
– Karen
Double Boxer Pen and Watercolour Pet Portrait
Just to let you know that I have received both portraits this morning.
They are fantastic, very grateful!
I have yet to give the larger one to the recipient however I am sure they will love it.
I certainly love my smaller one!
Once again many thanks
Elvis – Border Terrier Portrait
Hiya Sarah,
Just wanted to say thank you again for the wonderful picture of Elvis my husband loves it and said how it is just Elvis…Everyone who has seen it has said how good it is and it is.
You really don't know when you commission something how it's going to turn out but we love it.
Thanks again for a great service, communication, help and a brilliant portrait.
Double Dog Portrait 14×11 inches
The picture arrived safe and sound and made it over to Germany in one piece. Our friend was so overwhelmed when he saw it and was on the top table at his 50th birthday party!
Thanks again so very much.
Alfie – 10×12 inch Portrait
Hi Sarah,
It was my brother's wedding yesterday, and today I have given them the portrait of Alfie. He and his wife were absolutely thrilled and both commented on how much you have captured his likeness. They said that the photo you chose was one of their favorites, and that they have wanted a picture of Alfie for a long time, but couldn't have imagined one so perfect.
Thank you so much for all your hard work. I am more than happy if you would like to upload our message of thanks to your website, or if you would like me to write something to put up, please let me know.
– Emma