My Story
I am Mum to two children aged 13 and 9 and who I hope may follow in my footsteps in loving art, not sure they will become pet portrait artists though! I am also owned by my ginger and white cat Murray and my Jack Russell Terrier, Luke and more recently Maggie, the yorkie cross chihuahua. Or often affectionately known as Maggles. I also have a part time dog called George, the cocker spaniel who is my best friends dog. I haven't painted their portraits yet though. Maybe one day. All the work takes place in my studio in Kent. I am pretty much always in my studio, well inbetween walking the dogs, so if you want to come down and see what pet portrait I am working on or you want to view any portraits in the flesh before you proceed with a commission I am more than happy for you to visit. It's small and cosy and very welcoming. You will get a warm greeting from my two dogs as well. If you are lucky my cat too! The kettle is always on and I have plenty of biscuits in the cupboard.
If you want to contact me for a vist please drop me an email or give me a call and we can arrange it and a fuss of the dogs is included!
Knockholt artist Sarah Leigh who will be showing her work at the Festival of Bluebells at
Riverhill house
.
Meet Murray
This is Murray. We adopted him in 2012 from Gumtree. Now I don't condone adopting animals from there as I believe people should go through the proper avenues to rescue animals, but after being repeatedly rejected by rescue centres we went down this route. What a cat he is! He is roughly 12 now and he is the most chilled pet I think I have ever owned. Even my husband who is not a cat person adores him. He is boss of the house over the dogs and they both know their place when he is around. He will try and follow us on walks and would love to come all the way if he could. He loves the kids, particularly Nicola my daughter. He also has a second home with my neighbour's three cats. She often finds him in her kitchen waiting for food with her 3! He really is hilarious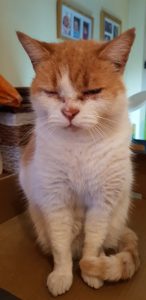 Meet Luke
This is my handsome boy Luke. Luke is an April Fools dog, yes he was born on the 1st of April 2013, so he will be 6 next year. He is your typical grumpy Jack Russell, but he absolutely adores me. He is great with my children too. He hates the rain and refuses to go out much before 11 on his first walk. I literally have to coax him out. When he gets there he loves it.
Meet George
George is a great big softie. He adores Maggie and she adores him back in equal measure. They play together regularly at my house and Maggie will try her absolute best to keep up with him on every dog walk we go on together! It is so funny because the rough and tumble that goes on you would never guess that Maggie was a 5th or less of George's size!
Meet Maggie
It took many months of hard work to get Luke to accept Maggie. We had to keep them separated by gates and all sorts. I only had them together when there was positive associations taking place, such as high value treats and dog walks, but even then I had to take someone with me to take one dog and me the other as Maggie tended to jump all over him which he hated. It was a tough 6 months and I wasn't sure that it would work even. I was terrified that we would have to keep them separated forever. Slowly but surely he came round and now he has quite the soft spot for her, giving up his toys to her, and even sharing her dinner. Look at them now, you'd never have thought it looking at them now!
My day normally starts by getting the kids off to school and walking the above misfits. we take a quick walk around a field next to us and then they have a longer one later in the day. I get back, check emails and do any admin, such as ordering stock and blogs. Once I have responded to any new enquiries and anything else that needs my attention it's off the studio to create pet portraits.
Unfortunately I rarely get a full day painting as there are many other things that go along with running your own pet portrait business. Or being any sort of artist. Framing, stock checks, admin, promotion…. The list could go on. My time is more a 60/50 split between general tasks and my pet portraits.
I feel very lucky to be able to do my dream job and you can read more about how and why I came to use pastels in this blog.I have always loved animals and painting so it is pretty much the perfect combination for me being a pet artist. It isn't only pet portraits I do. I often paint wildlife and have a more contemporary style in my watercolour range. I often attend local shows and fairs where I display these. Don't forget I can be commissioned to paint any animal, I have even done the odd human portrait too, so don;t hestitate to ask if there is something specific you are looking for. I hope you enjoy browsing my website and portraits.
You can commission you pet portrait in a range of styles. My vibrant, contemporary watercolours are proving very popular and you can view them in this gallery, it is mainly wildlife as it is a new style for me, but I have two commissions in the style lined up so watch this space for the finished paintings. I am always looking to try new things out, so if there is somethi g you have seen and you like it, be it a different medium or style, please don't hesitate to ask me.