Pet Portraits By Sarah, Likeness Guaranteed
Welcome to my website. I hope you enjoy browsing my pet portraits past and present. Modern and traditional styles are available.
Book your 2020 pet portrait at 2019 prices now!
SPACE FOR ONE JOLLY SPLASHES PET PORTRAIT BEFORE CHRISTMAS.
10×10 inches with white frame, please contact me for more details
Bookings being taken from Febuary/March 2020
I am accepting people portraits. Please contact me for more information and examples. I am also offering a digital file of all pet portraits completed for a small fee for you to get your pet portrait printed on to mugs, coasters and other bits and pieces you may like. I am not sure how long I will keep this offer going so take advantage while you can! Also read about the two Jolly Splashes Cows that were sold to a buyer in France this weekend!
PET PORTRAITS NEWS
Read my weekly blog and my latest dog portrait underway, Fudge the chocolate labrador. Read about the current Jolly Splashes Portraits here. Read about the difference between painting a long haired and short haired dog here. It is a work in progress currently
I got a lovely testimonial from a client today regarding the graphite pet portrait I did of Remi
Thank you so much for creating such a beautiful piece of artwork of Remi. We gave Mum her present today and she cried (and we all cried as well!)
I could tell that she absolutely loved it and we do as well. I don't think you could have done a better job – it is perfect! Mum kept on saying 'it looks so much like her!' over and over after she opened it. She has already been around the house and decided where it will go. She has chosen the lounge 'so she can look at it often'.
Thank you so much! My sisters are already in talks about getting portraits done of the other dogs who have already passed away so you may hear from them at some point. I will definitely be recommending you to anybody who asks.
Recent dog portrait hot off the easel, the gorgeous gentleman Marmo the Border Collie!
The Brand New Jolly Splashes Pet Portraits Gallery has been opened. Please take time to visit.
New Jolly Splashes Pet Portraits Digby the Working Cocker Spaniel. Read the blog about the progress of their dog portrait. All prices can be found here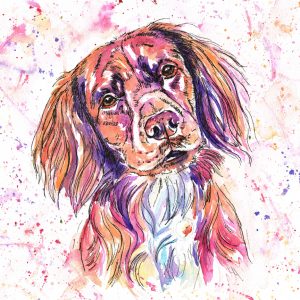 Melody, Chica and Urchins pet portrait video…..more to add soon. Their blog can be read here
New wildlife piece of art, baby orangutan. More on this piece soon and how I hope to raise some money to help the plight of the orangutans.
Pet Portrait and Photo Comparisons
I like to update this picture regularly so you can see my latest pet portraits, but as we are running into Christmas I have to keep them under wraps, so over the next few weeks you can see some likeness comparisons. Here is Splash, what a great name for a horse! Guaranteed likeness of your pet or horse
"Hi Sarah, just arrived, it's beautiful, so very pleased, thank you so much. They'll be an unveiling to family and friends on Saturday night after the fireworks in the village"
This is Bakewell, I have done two portraits for this client and both her cats were named after cakes and pastries. The other one was called Applejack and he is the beautiful ginger cat at the top of my home page.
I feel like the dog portraits aren't getting a fair representation so here is a comparison for Poppy's portrait.
Jolly Splashes Pet Portraits
Looking for a more modern pet portrait? Something that steps away from the traditional style pet portrait. Look no further than my Jolly Splashes watercolour pet portraits! These bring a contemporary look to any home and can be painted on paper or even on deep edge canvas keeping the fresh and modern look, pop over to the gallery to see view my paintings in this style. Please contact me for more information! Prices start from £35.00. Below you can see some examples and more information can be found in my blog. Also I have explained a little about the process here.
Welcome To Sarah's Pet Portraits
Hello and welcome to my website. I am an international artist based in Kent, the UK, specialising in hand painted pet portraits and wildlife paintings ranging from domestic animals to the big beasts on the plains of Africa. Please also feel free to take a look at a selection of a separate strand of my work at my other website 'Sarah Leigh Fine Art'.
Pets and painting Pet portraits is my passion and believe that shows in my art. I love all animals and being the Mum to three furbabies myself, two dogs Maggie and Luke and a cat called Murray. I understand that our pets mean the world to us, they are such an integral part of our life I would love to be able to create a lasting memory of your pet and it would be an honour to paint yours. You can find examples of my Jolly Splashes Pet Portraits, dog portraits, cat portraits and horse portraits. you can also now view time lapses of my pet portraits here. If you have a request for a a more unusual pet– perhaps a rabbit, a hawk or even a chicken then don't worry because believe me, I have painted all kinds of pets in the past from rats, to chickens to sheep and even wildlife! This website is designed to help you obtain a wonderful tribute to whatever pet or animal you have or love.
Pastel Pet Portraits
I aim to make the process of ordering a pet portrait as easy as possible for you. Please read my step by step guide to ordering and the other information you need for me to create the best pet portrait possible for you. Client satisfaction is my number one priority. You may also rest assured I use the finest quality artists quality materials to create your pet portraits. I use pastels with the highest lightfast ratings and archival paper as you and your pet deserve the best. My clients come from all corners of the UK and overseas and you will find testimonials of my previous pet portrait work on this site. Pet portraits are perhaps the most fitting way to celebrate that special animal in your life, your best friend. You have come to the right place to commission a hand painted, original piece of art for your home, or it maybe you are looking to gift a pet portrait to a loved one. You can guarantee your pet portraits will have hours of love put in to creating them and will capture a true likeness and character of your pet. All my portraits are painted from good, clear photographs, on which more information can be found here. No digital manipulation is used to create any of my pet portraits. Pastel pet portraits need to be framed and I offer this service, but I can ship them unframed if you prefer to go to your local framer for framing. Once framed professionally either by myself or a framer your portrait is ready to hang and bring you a lifetime of happiness. Read more about the framing process here.
Hi Sarah I have received the painting of Milly. It's fantastic. I think she will cry. I would highly recommend you to anybody if they require a painting from you. Best wishes and have a great Xmas and new year to all your family. Kevin.
My experience as a pet portrait artist has taught me that pastel is my favourite medium for capturing the detail of your pet in a stunning pet portrait. I have use many mediums in the past for my work, but I firmly believe that pastels capture the animals I paint perfectly. It is often remarked that my pastel pet portraits look like oil paintings. However it is possible to work in an assortment of styles in order to suit my clients' personal preferences. The information on this website will help you to choose the best style for your pet portraits as well as providing guidance on the ordering process and if you'd like your pet immortalised in my new Rainbow Watercolour style contact me to discuss.
When it comes to my work, customers can be confident that many hours have gone into their commission. Whether you are interested in dog portraits, cat portraits, horse portraits or another pet, I aim to keep you involved in the creative process throughout with regular updates or if you prefer to wait and see a photo of the finished portrait just let me know.
It is common for there to be a 8-10 week waiting list for portraits to be completed because they involve many hours of detailed work, this is often longer at Christmas and can be up to three months. Pet portrait artists, UK based or otherwise, tend to very busy leading up to the Christmas period which normally starts in August for me and other artists so it is vital that you book early in order to avoid disappointment. I also offer gift vouchers for pet portraits if a last minute commission is not possible, or if you want to leave it to the recipient to decide what they want. Please visit my price list to find out how much your pet portrait may cost. I try to offer portraits to suit every budget and these sizes are purely a guide. I can produce pet paintings smaller and larger than the sizes stated.
In order to keep abreast of all news, exclusive offers, competitions and latest additions to my portfolio, follow my dedicated Facebook page, where you may also get the chance to win gift vouchers or even the odd free portrait! Do also take the time to read my blog where you can read about the latest pet portraits I am working on, watch various pet portrait time lapses and even get some tips on creating your own pet portraits!
If you are interested in commissioning one of my pet portraits please contact me on 07951 241193 or email me sarah@sarahspetportraits.co.uk.
Quick links
Dog Portraits | Horse Portraits | Cat Portraits | Blog | About Pastel Pet Portraits | Jolly Splashes Pet Portraits | Other Work | Prices