Welcome To Sarah's Pet Portraits
Hello and welcome to my website. I am an international artist based in Kent, the UK, specializing in hand painted pet portraits and wildlife paintings ranging from domestic animals to the big beasts on the plains of Africa. Please also feel free to take a look at a selection of a separate strand of my work at my other website 'Sarah Leigh Fine Art'
Pets and painting pet portraits is my passion and believe that shows in my art. I have been professionally painting pet portraits for over 15 years now. I love all animals and being the Mum to three fur babies myself, two dogs Maggie and Luke and a cat called Murray, I understand that our pets mean the world to us. They are such an integral part of our life I would love to be able to create a beautiful portrait of your pet. You can find examples of my Jolly Splashes pet portraits, dog portraits, cat portraits and horse portraits in their galleries.
LATEST OFFERS AND COMPETITION
News
FOLLOW ME AT WORK
Times lapse & youtube video
Time lapses of my pet portraits can be viewed
here
. These are very popular and if you would like me to film yours please don't hesitate to ask. I don't just paint the usual dog portraits, if you have a request for a more unusual pet it's no problem. I have painted all kinds of pets in the past from rats, to chickens to sheep and even wildlife! This website is designed to help you obtain a wonderful tribute to whatever pet or animal you have or love.
What I Do
Recent Pet Portraits
A SIMPLE PROCESS
How It Works
You have come to the right place
Pet portraits are perhaps the most fitting way to celebrate that special animal in your life, your best friend. You have come to the right place to commission a hand painted, original piece of art for your home, or maybe if you are looking to gift a pet portrait to a loved one.
You can guarantee your pet portraits will have hours of love put in to creating them and will capture a true likeness and character of your pet. This website is designed to help you obtain a wonderful tribute to whatever pet or animal you have or love.
Ordering a pet portrait
I aim to make the process of ordering a pet portrait as easy as possible for you wherever you are in the world. My clients come from all corners of the UK and overseas and you will find testimonials of my previous work on this site. Please read my step by step guide to ordering your portrait. You may also rest assured I use the finest quality artists quality materials to create your pet portraits and capturing the personality of your pet, that along with client satisfaction is my ultimate priority.
A simple and straightforward process
All my portraits are painted from good, clear photographs, on which more information can be found here. No digital manipulation is used to create any of my pet portraits. Pastel pet portraits need to be framed and I offer this service, but they can be supplied framed or unframed. Once framed professionally either by myself or a framer your portrait is ready to hang and bring you a lifetime of happiness. Read more about the framing process here.
You are involved throughout
When it comes to my work, customers can be confident that many hours have gone into their commission. Whether you are interested in dog portraits, cat portraits, horse portraits or another pet, I aim to keep you involved in the creative process throughout with regular updates or if you prefer to wait and see a photo of the finished portrait just let me know.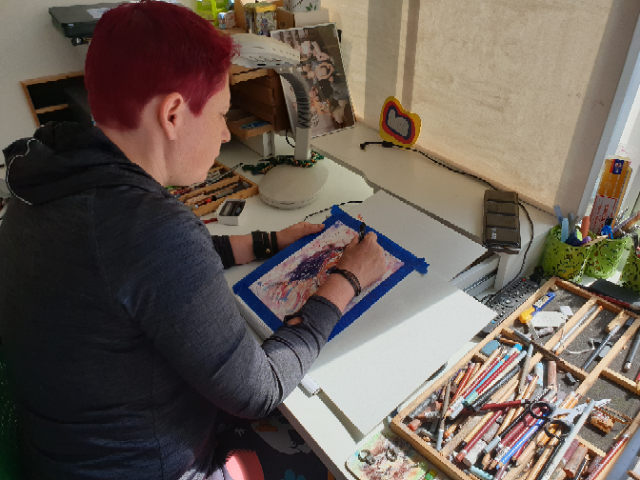 Allow time
It is common for there to be a 8-10 week waiting list for portraits to be completed because they involve many hours of detailed work, this is often longer at Christmas and can be up to three months. Pet portraits artists tend to very busy leading up to the Christmas period so it
is vital that you book early in order to avoid disappointment.
Other mediums
Years of experience as a pet portrait artist has taught me that pastel is my favourite medium for capturing the character of your pet in a stunning pet portrait. Pastels are pure pigment and wonderfully soft yet brilliant for detail, so ideal for creating fur and feathers. It is often remarked that my pastel pet portraits look like oil paintings. However, it is possible to work in
an assortment of styles and mediums in order to suit my clients' personal preferences. The information on this website will help you to choose the best style for your pet portraits as well
as providing guidance on the ordering process.
Prices
Please visit my price list to find out how much your pet portrait may cost. I try to offer portraits to suit every budget and these sizes are purely a guide and can be painted smaller and larger than the sizes stated.
Gift vouchers
I also offer gift vouchers for pet portraits if a last minute commission is not possible, or if you want to leave it to the recipient to decide what they want.
Testimonials
Happy Clients
Loved the painting of Bailey
Hi Sarah,
Just wanted to tell you how much my wife loved the painting of Bailey. I've waited until now to give you my feedback because I wanted to see the look on my wife's face. She absolutely adores it, you've done a wonderful job. I'm sure when the portrait is hung upon the wall and everyone see's it you will be having one or to phone calls to have their pet's done.
Thanks once again.
– Peter
Pugsley, Horse portrait in pastels 14×18 inches
I have just viewed your latest portrait, that of The Phantom P.( His full title). It is absolutely wonderful and I don't know how you do it. It must be very rewarding to have to have such talent. Sometimes it makes me want to weep when I see what some skilled and talented people are capable of doing with their hands.
Of course Sian will love it.
Thank you very much, I will let you know how she reacts, but I know it is going to make very happy.
Kind regards.
– Nits
Blog
Behind the Scenes
Do also take the time to look behind the scenes where you can read about the latest pet portraits I am working on, watch various pet portrait time lapses and even get some tips on creating your own pet portraits!
Pet Portraits Are Back It has been a crazy long time since I did a blog post. I have thought long and hard about what to write and whether I should disclose why I have been so quiet. After...