These are going to be fun portraits to do! My client approached me at the end of last year. Initially she was looking for three dog portraits, but last week she added a new addition to her a family, a gorgeous Golden Retriever puppy called Charlie and decided to get his portrait in pastels too! I am delighted as I don't often get to paint puppy fluffiness, most people choose to get their dogs painted in adulthood.
Initially the clients photos weren't the best quality, but they were fairly good poses. They wanted 10×8 inches so it was decided head and shoulders portraits were the way to go. Unfortunately one of the lovely dogs, Toby, has crossed the rainbow bridge so we only had limited photos to work from. Luckily his were quite good. My client got some more images at my request. I like to get the best I can to make sure I can always produce the best pet portraits possible for my clients. It can be tricky to get the good photos, but persistence certainly does pay off as it will reflect in the quality of the final portrait. Once we had some better photos it was time to narrow it down to the best four and get painting!
Holly, Liver and White Springer Spaniel
I don't know why I picked this dog portrait first, but I did! She is a gorgeous liver and white springer spaniel, my absolute favourite, after perhaps a tri colour! One day maybe I will be lucky enough to own one.
Anyway she has beautiful eyes which I was determined to capture as with all my pet portraits. As always, the eyes are the most important part to all pet portraits.
The colours I use for her liver fur are pretty standard and I have them down to a fine art now. I use Derwent chocolate, burnt carmine B (from their old range. A very precious colour to me. I don't know what I will do when I run out!) Caran d'ache cassel earth, 069 (not sure of the name could be their venetian red) faber castell, 177 – van dycke brown, 181 paynes grey, 199 – black and carb othello light flesh I think, will double check that, and cold grey 724 and 726.
I have also tried a new method with the white chest fur. For some reason I find it is harder to cover the tooth of the paper on the white parts of portraits. I have always wondered why, it can be quite frustrating as it is not always ideal to have the colour of the paper showing throught too much. It does of course depend on the colour paper you use, but for example in this dog portrait I chose liver because the majority of the dog is liver and brown pastelmat would be best. So with the white chest better coverage is ideal. If I was to be using a grey paper then I wouldn't be quite so concerned.
Anyway I have digressed. The new method I have been looking to try to help with this is panpastels. They can be bought at most art suppliers. I have found Amazon to be quite reasonable, and here is a link the first set I bought. Grey tints
They do come with the sofft tool applicators as well so that is handy. I have found that they seem to wear down or crumble quite quickly on the pastelmat paper, so I am going to research cheaper alternatives. I will let you know what I find, as these tools are quite expensive. For the mean time I advise a gentle touch!
I used a light application over the chest, paying attention to the shadows and high lights. The key is not to overload the tooth of the paper as you want to go in after with your pastel pencils and add the detail. If you fill the tooth too much that will become tricky and you will have to introduce a workable fixative. Not really ideal. I have not had a good experience with fixatives!
When I thought I had blocked in most of the white of the chest loosely the pencils came in next. I was very pleasntly surprised with how they went over the panpastels. It was very easy to apply and the tooth of the paper wasn't by any means full so I could easily add quite few layers of pastel pencil. Exactly what I wanted. 

Overall I am really pleased with how my first attempt with them went. I can see they maybe useful for future backgrounds with my pet portraits. It will be nice to not have the tooth of the paper so loaded it is tricky to add those fine whsips of hair.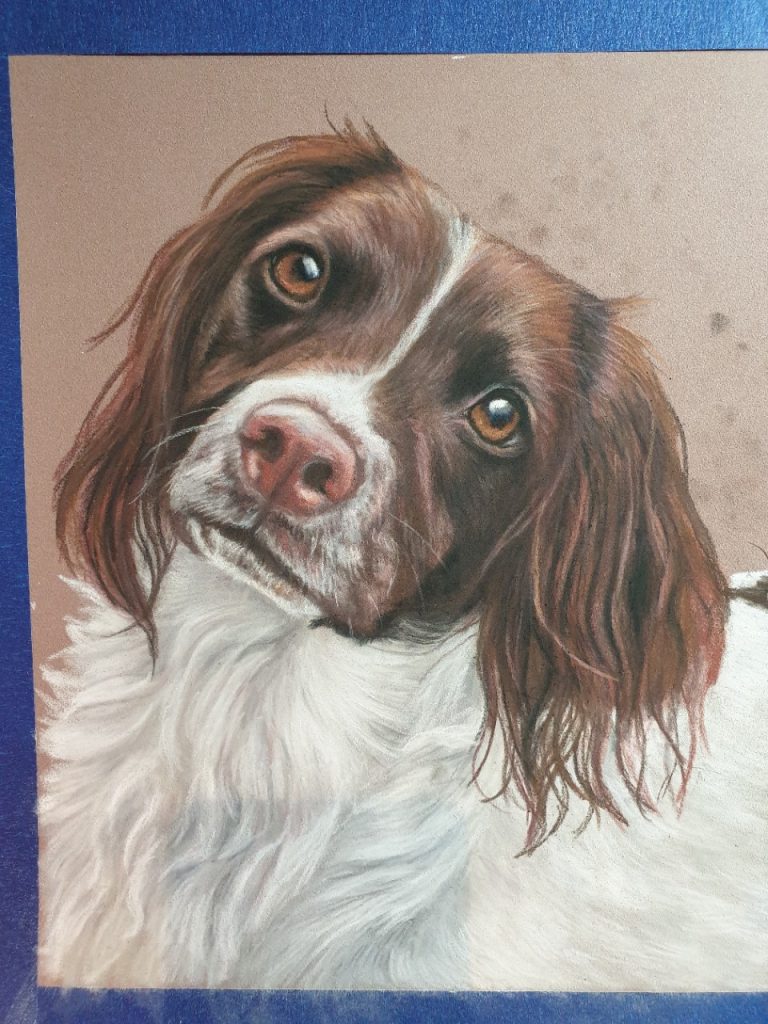 Currently there is no background on Holly as I am undecided which colour to use. As all four pet portraits are going to be displayed together I want to carefully choose a colour that works with them all.
Toby, Black and White Spaniel Dog Portrait
Toby is a gorgeous spaniel with a lovely black ears, except his white one has gorgeous white whisps running through it. I had various photos to work from, but felt this was his unique feature so wanted to make sure it was captured in his pet painting.

As all four finished portraits will be hung together the backgrounds needed to be the same colour to tie them all in. I was undecided when I had finished Holly's portrait but was thinking blue. The plunge was decided when I started Toby, as it was going to work across all four and especially with the golden retreiver puppy who is paler than the other three.
I returned to using the panpastels for the white fur on his chest. I am beginning to get the hang of them now and how to use them without shredding the applicator. All the time being mindful of the amount I lay down so as not to overload the tooth of the pastel paper and go over with pastel pencil to add the details.
I think I am going to expand my use of them over the coming months when I can add to my colour selection. I am certainly finding them useful for the coverage of white fur.
Charlie, Golden Retriever Puppy Portrait
I have been painting a lot of Springer Spaniels recently and I still have one more to complete for this client. They mainly been liver and white too! So I decided to break them up a bit with this absolutely gorgeous puppy.
My client asked me to paint him as well as the other three as she recently got him. Who can resist a puppy? In fact I am working on a French Bulldog puppy called Pierre in coloured pencils. As a pet portrait artist you don't get asked to paint many puppies as people prefer their dog as adults. It makes sense, I would feel the same, so it is lovely to get to do two at the same time!
The challenge with this gorgeous boy is to capture his beautifully fluffy fur. I purchased another colour panpastel to try out. Burnt Sienna Tint 27408. A very pale burnt sienna to colour match the pale coat Charlie has.
Above you can see the reference for his portrait. You can see what I mean by all that glorious puppy fur which is going to be so much fun to recreate. My client wanted his portrait cropped in to match the crops of the other three. Heads and shoulders. As all the portraits are that size they do suit head and shoulders portraits better. If you opt for a full body you lose the opportunity to focus in on the detail, and it can be harder to capture their character.
I put a layer of the burnt sienna pan pastel down, along with some white and very pale grey. I laid it in the direction of his fur just as I would my pastel pencils. It is really important this, as it helps define the muscle structure and shape of the animal.
Once that was down I start with the pastel pencils. I have also discovered that I can pick up pigment from my soft pastel sticks with the sofft tools to apply colour in a similar way to the pans. It is really handy as I don't have many colour in my panpastel collection yet.
I am really beginning to enjoy the panpastels for my pet portraits now I am beginning to grasp how the work and understand their capabilities better.
Last but not least Coco
Coco is the last dog portrait in the four to be started and completed. Another beautiful liver and white spaniel. I have to say liver and whites are my favourite to paint. I love the colours that go into their brown fur. It certainly doesn't stop at brown. I put burnt carmine, greys, purples, reds and blacks in it. Such a beautiful collection of hues and tones
I don't have the range of colours to lay down for her beautiful liver fur in panpastels yet, but hopefully not for long. I just did her chest in pans. I am becoming more confident in using them and I seem to be getting more down and less damage to the sponge on the applicator. I am using similar motions but a much softer touch. You don't need to press hard to get the pastel down and I think I was a little exuberant with my first few goes!
Again I am really pleased with how the panpastels have helped me lay the initial layers of pigments down. They are a really useful medium to have in my ever growing collection. I am going to run out of studio space soon I am sure. It can become quite an addiction buying art materials! Shoes have never interested me. Just give me all the coloured pencils and pastels please!
Below you can see all four pet portraits right before the monumental task of safely packing them all up ready for shipping. A job I take as seriously as painting them of course! Left to right you have Coco, Charlie, Holly and Toby.