I love terriers, I would, I own two, well terrier crosses anyway. Intelligent, bright, mischievous and cute!
Oscar a West Highland White Terrier looks no different, and I want to capture those traits in his portrait. Look how handsome this boy is, and I have a wonderful reference photo to work from for his pet portrait.
Below you can see the image my client sent me and in the sketch how I decided a close up crop would work better.
Look at his face! Isn't it just the sweetest westie face you have seen?!
Here is the sketch already for me to start work on tomorrow after my Nordic Walk. You can hopefully see how I cropped in tighter to his face as I thought it would be better to have his face and a little of his body fill the painting as it isn't a large one at 10×8 inches. My client will be having it framed. I painted their spaniel last year, so it is lovely to be oing something for them again.
I think I will do the background rich greens with plenty of bokeh. I like how the dark green in the background really throws him forward and makes his white fur stand out. Although, yes you have guessed it, there will be plenty of other colours other than white in this portrait.
I shall talk more about the colours I use in white animals as the portrait progresses, so pop back for updates on Oscar and also Storm
When I got back from Nordic walking and been to the post office to post Bubba's pet portrait, I sat down to start work on Oscars portrait.
If you look closely at the reference photo you can see the colours in the shadows between the white fur. These I concentrate on to create depth in the fur. I try to look at the basic shapes they make which helps break down the portrait rather than concentrating on it as a whole. I will discard the odd stray hair that might break up a shape and add it in after. It is good to simplify it as much as possible in the beginning.
The darker shadows or shapes are made up of a mix of raw umber and warm greys, in varying mixes. As you can see the shadows aren't all just straight grey, some are warm greys, cools greys and sandy colours.
I work on these first and then I can start adding the details over them. It also worth noting the white bits aren't just white, I have used very light cool and warm greys for the white bits and actual white for only the brightest white parts. This helps with contrast and to make the white look even brighter.
You can't really tell from the photo I am about to upload, but in the final scan hopefully you will be able to see what I mean. I will also try and take some close ups tomorrow.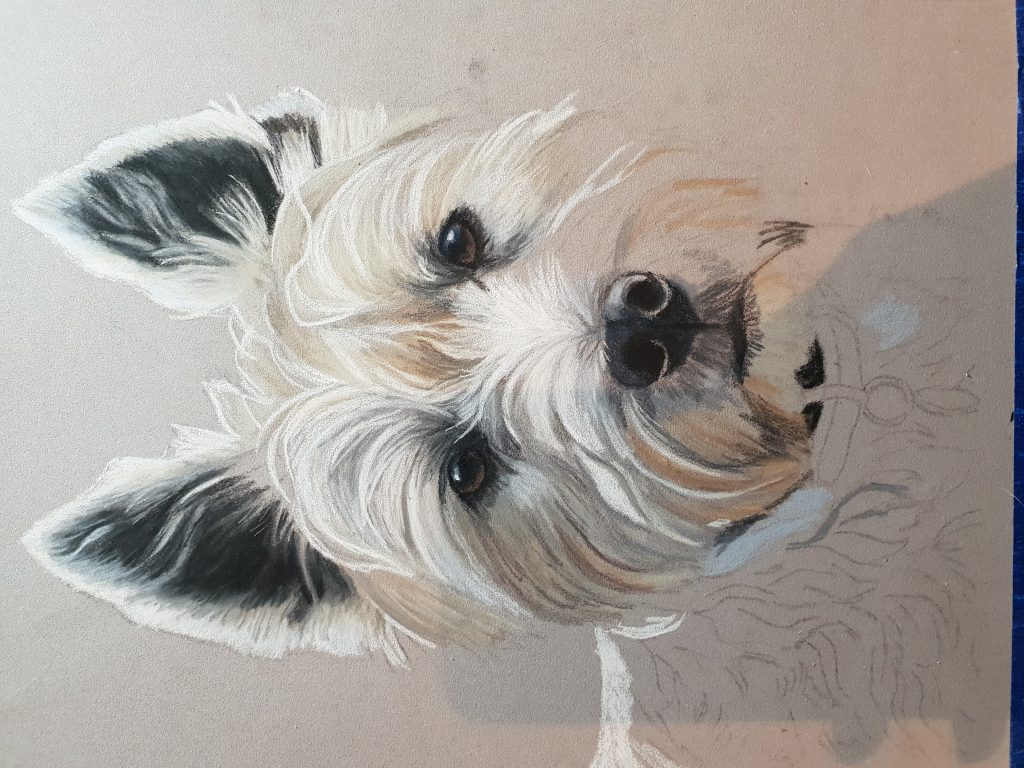 I have managed to get some more work done on the gorgeous Oscar. I was up early this morning as my husband took my Dad to the airport so the whole family was up early. You can also read about my progress on Badgers giant canvas today too!
I am hoping a good days work will see Oscar finished tomorrow and more work done on Storms portrait too.
Here you can see I have started on Oscars body and I think my next step will be the background. Definitely a dark green. I have meeb mulling it over and I really think it will make Oscar pop!
I realised I hadn't finished Oscar's blog despite finishing his pet portrait Wednesday this week! My bad!
I did opt for the green background I wanted and I think it worked a treat. I made it look like it was out of focus foliage in the background. I wanted it really subtle, so as not to be a distraction from Oscar, who of course is the main focus of the painting.
I used mainly soft pastels as opposed to pastel pencils for this as I do for most of my backgrounds in pet portraits. Unless it is particularly detailed, I find they work the best and I can get a softer effect. I would love to use pan pastels one day, as I think they maybe even better for this, but they are quite expensive to purchase. Perhaps I should put it on a my birthday list.
After I finished the background I added all the fine details to Oscar and the edges, bringing the wisps over the background to bring him forward, avoid any hard edges and remove any smudges of green, this helps to create a good sense of depth of field.
What do you think?