Well not really hahaha, he is most definitely a black labrador, and his is the next portrait on my easel. I shall also be starting two more horse portraits this week.
I keep saying this, and I think I will continue to mention it, I think it is very useful for artists starting out in pet portraits, black is one of MANY colours I use for my black dog portraits. For example, so far in Sam's portrait I have used, indigo, purple, burnt carmine, 3 different cold greys, paynes grey, chocolate, white, blue and pink! 11 colours, and there will be more by the time his portrait is finished. I will try to remember to list them all.
The reference photograph for Sam's portrait is of him lying down on the grass. My client wanted a 10×12 inch portrait framed so I thought cropping in closer so we could really focus on his face would be best. I gave my client a few options, but this is the crop she opted for.
He is a handsome chap isn't he? I am partial to black dogs! Especially as I part own a black cocker called George! Did you know black rescue dogs are one of the hardest colours to rehome, often being overlooked for others. Crazy huh?! I love a black dog!
Here Stan is all sketched out and you can see I am establishing the outline and blocking in the darkest areas with my black pencil!
I hope you have noticed I have put the images in the blog the right way round this time! I don't know why it insists on uploading mobile images every which way except the right way! Anyway. I think you will see the way the portrait has been built up from the outlining stages, blocking in and the layers and colours used for his pet portrait.
We are going to take a big leap forward and I am going to show you the final version of the portrait. His owners are delighted and I will be framing his pet portrait next.
Even though I had sketched the collar out as you can see in the previous images, just in case my client wanted it in. Some do specifically want to keep them, but they opted out and I think it works best as it was very red and did draw your eye away.
They have chosen a gorgeous silver frame for his portrait and I have taken some photos of the framing process for you to look at too! All archival materials are used at every step of the way to ensure the longevity of your pet portraits.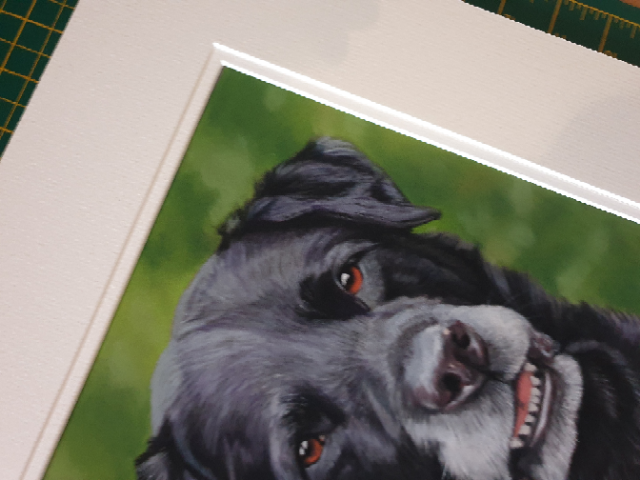 What do you think? I need to take a straight on one, but I think these are quite nice, and with certain frames it will really show off their details. Makes for interesting viewing I think!