Next up in this exceptionally busy, or should I say crazy busy period is the gorgeous Ava. Labradors are one of the UK's most popular dogs, renowned for their gentle nature and as family pets.
Ava is a gorgeous example of the breed and I have been really looking forward to her portrait. My client sent me a few lovely photos to work from. One stood out to me in particular, but it was on an angle so I straightened it in photoshop and cropped it to fit the dimensions my client wanted. Below you can see the edited photo.
Below is her sketch all prepped and ready for me to start getting dusty with my pastels. The favourite part of my job!
I have made such fantastic progress on Ava's portrait the last few days. She is proving to be one of those pet portraits I settle into and it just flows from beginning to end. I could have worked on her all night she is proving that much fun. In fact I have even forgotten to take photos of the various stage of her portrait. Sorry about that. I did take one quickly before packing up this evening though. I think you can really see how well she is taking shape.
You can see from this photo how I have used purples and blues for her base colour. It adds depth to her and richness to the pet portrait rather than just laying down black for the shadows. It also avoids the highlights looking too grey. I think I shall get her finished on Thursday so look out for updates then. I am on a first aid course tomorrow so no work sadly.
I have been ummming and ahhhing about the background for Ava. I have been torn between the grey/blue that I use quite a lot or the background similar to the one I used for Oscar. I really liked how Oscar's turned out. I decided after much thought to go for the green. Ava's portrait is predominantly made up of blues, indigo and cold greys, so I thought the grey/blue would make it too cold. It's funny how your tastes and views change over the years. I normally would have reached for the grey before anything else, and don't get me wrong it works, but for some reason now I feel like it can be a bit too much. I also felt the green would work well with Ava's collar, which my client asked to be changed to red. I thought with all the cool colours the red would stand out far too much and draw your eye away from the pet portrait. The greens also being of a warm colour would temper that.
I was right! I am over the moon with how Ava turned out! So is my client. Even happier as the photo was a little blurry in places so I had to draw on my knowledge of labs to help me.
So here you go, Ava's portrait, all finished.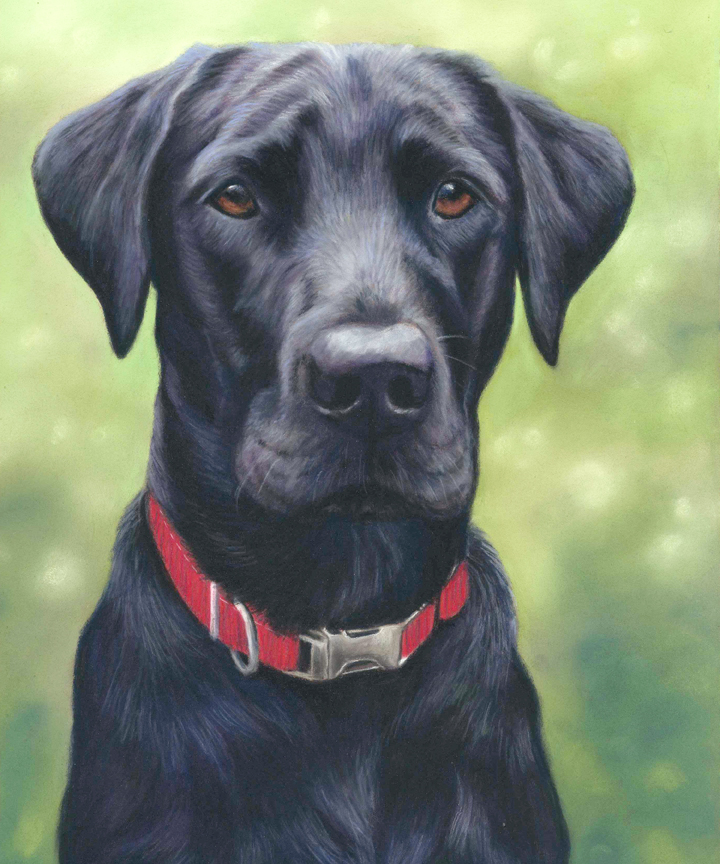 My client was delighted, so Ava has now been framed and is ready to be posted tomorrow, ready to be gifted on the weekend. I can' wait to share her portrait on my facebook page. Everyone loves a lab, especially as one as gorgeous as Ava.
My client chose one of my favourite dark wood frames with a double off white mount. I will add a photograph of her framed tomorrow.