I really feel like I am getting to grips with coloured pencils. I am starting, very slowly to learn what colours I need for what. It is most definitely not second nature like for my pastel pet portraits, but that is hardly surprising. I have been using pastels for my pet portrait commissions for over 15 years.
Anyway this commission is of two Border Terriers and a minature schnauzer. I am a terrier owner and love them so it is always a delight to get to draw them.
My client opted for the 14×11 inch portrait size and is having is framed. I have decided to do this commission in pencil for one main reason. Because I am fitting 3 dogs on not a huge size I thought it would make getting those fine details in much easier than with pastels. So far I think I am right.
I am trying to work left to right to avoid smudging and remembering to where I can, work light to dark. The opposite to pastels! It is so hard to work a different way to something you have done for 15 years!
I have learnt through the amazing network of artists there are out there that there is one particular white pencil that dows layer beautifully over darks and that is the Caran D'ache Museum Aquerrelle. With my expereince so far it is still best to try and work light to dark where ever I can. It will be a good practice for when I try and attempt some portraits on hotpress paper.
On The Pet Portrait Commission
I don;t have the best photos to work from, not of the favourite ones for my client, particularly of one of the Border Terriers, but luckily my client does have plenty of other photos to for me to cross reference.
Below you can see the mock up I put together for my client.
I started work and I am working left to right to avoid smudging the dogs on the right of the paper. This is quite strict for me as I tend to jump all over the place with my commission work, but it doesn't matter so much with the pastels. I am not planning to fill in the background for this dog portrait so I don't want to smudge the paper.

The wirey hair on the borders is going to be tricky and I am finding building up the layers very lightly is the best way to get the effect I am looking for. I am not sure this photo shows it well, but you can see in this video I have shared on facebook.
If you don't like video's here is the first dog portrait nearly finished. The wire hair needs some work but overall I am pleased with how it has turend out. Loving coloured pencils for dog portraits!
Triple Dog Portrait – The Schnauzer.
I have made good progress on the first Border Terrier portrait and decided to move over to the Schnauzer. If I am working on more than one subject, I tend to get them all nearly finished but not quite and then go in and finished them together. I helps keep some unity and consitency in the portrait. I have found in the past it doesnt work so well if you try and completely finish one portrait and then start another. Inevitably you always have to go back and make adjustments and if you go to far you have to take to portrait back and re work it and that is just frustrating, so better to try and bring them to completion together.
Looking at the little Schnauzer I notice he is a combination of warm and cool greys. I think you can see that in the reference photo I have attached below.
My selection was a mix of warm and cool grey coloured pencils with some blues and my favourite chocolate colour by Derwent. I love this colour for both my coloured pencil and pastel pet portraits. So versatile!
I started blocking him in and you can watcha nother video documenting some of my progress here
I have also started doing this quick clips showing the close up detail of the portraits. I think they add a little more interest than just a photo. If you like them I can do them more. I think they show off the detail better too. A photo never really shows off all the tiny pencil strokes that go into one of these dog portraits.
Second Border Terrier Portrait
Once the Schnauzer was finished it was on the the second border Terrier portrait. I have made a very concious effort in this pet portrait to make sure I am working left to right to avoid smudging. I am terribly lazy with my pastel pet portraits and I tend not to worry and can jump all over the place. With ths piece I wanted to use the background of the paper rather than covering it, so it was essntial I paid attnetion to this and remembered to use my sheet of tracing paper to go under my hand to risk the chance of smudging even further.
I used a very similar process to the first border terrier and the same set of colours pretty much. Varying stroke lengths were used all over to create the lovely border terrier texture in their fur and a mix of light a darker tones. This, again, is where the pastelmat paper comes into it's own and I can layer light over dark, I love it. The greyish blue background works perfectly with the three dogs too.
I have slowly built up the layers to try and makes sure the grain doesn't show through too much, which can be the downside to pastelmat for coloured pencils portraits, but I think the effort it takes to remove that is outweighed by the versatility of this amazing support, for both pastel and pencils. You can even paint on it of you want to. It really is a mixed media paper.
For the subjects being so small in the compostion, I really am delighted with how much detail I have managed to get in these three dog portraits and I feel my confidence is growing with coloured pencils. I have two more pet portrait commissions to do in this exciting medium already. A Westie and and Jack Russell Terrier.
The frame is the same frame used for Florries portrait who arrived safe and sound at her forever home, and my client is delighted. Read more on her portrait here.
The Finished Dog Portraits
As my confidence is growing with my coloured pencil pet portraits I can see the difference in the results. I am genuinely pleased with how these three turned out. I have definitely learnt that the lighter you put down the layers the easier it is to pick out hightlights when you need them and that you get a nice smooth look eventually too. Getting rid of the overly grainy look that can be so disheaterning at the beginning of the drawing. I dont mind a little texture as whilst I like my pet portraits to look realistic I also want people to know it is a piece of art and not a photo. I totally admire artists that can achieve that in their work, but I like mine to be known as a piece of art.
Anyway enough of my endless waffle, here is the finished drawing.
I decided to put a close up of each of the dog portraits for you so you can really seer the detail that goes even into these small portraits. Each dog really measures 3.5 inches across and maybe 6 high!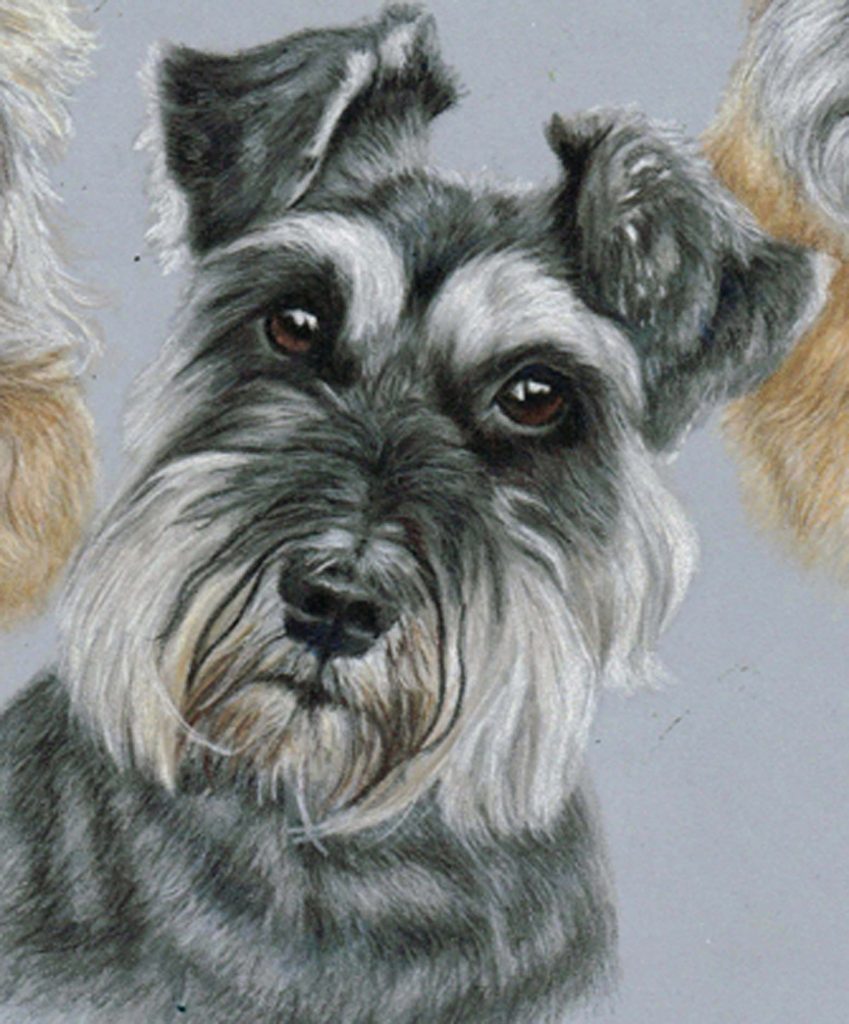 Here you can see the gorgeous frame used for the dog portrait. It hase proved a popular frame for pet portrait in the past and I used it as recently as the other week for the Gorgeous Florrie