Well that's it we are in December, it's official. Last month of 2018 and the last few weeks to get all those Christmas pet portraits finished. Phew. I can feel the end is in sight, but it's still going to be no rest for the wicked.
Still to go are the 3 CKC Spaniels, Steffi the weimaraner, and a couple of 10×8 inch framed portraits. I can't remember their names off the top of my head. it's nearly 10pm and I am shattered. I have been on the go since 7am. It will be the same tomorrow. I aim to get Cruz's portrait framed and the first Cavalier portrait finished. I will be starting Steffi's as well and I would like to do a time lapse of her portrait for you all. I have already started her blog, but there isn't much to read yet! Apple's has been finished and my client is happy after a couple of minor amendments. They were simple things, things that the camera had changed, such as making her nose look lighter than it should, so they have been all corrected and I will be posting out this week.
There will be a lot of framing and posting, including Cruz's which is huge and the box it will be going in even larger. Lucky really as hubby picked up his new car today. After a false start a few weeks ago because there was some confusion over the paperwork he went back up to Coventry today to pick it up. It is lovely, I can't wait to drive it. It's a Nissan Xtrail, and we have never had a 4×4 car before. well it's obviously not strictly a 4×4, but it is high on the road to drive and oh the lovely shiny new car smell!
Richard (my husband) has a motability car that he leases every 3-5 years and this is such a fantastic upgrade. it is going to make his life so much easier as it is much higher. I don't think I have talked about my husbands disability much before, so I will tell you about it later this week. For now it's off to bed as I have another cold coming I fear!
Tuesday
About 18 months ago I got the opportunity to paint a stunning even horse's portrait. It was completed and framed and it was all ready to post to my client. Then suddenly all contact was lost. Despite our best efforts we never managed to reach them. I have felt sad seeing it sitting at the back of my studio all this time, knowing he has a home to go to but not being able to get it there. Then all of a sudden out of the blue my client contacted me today asking if I remembered them and do I still have the portrait. I was delighted to hear from them. It turns out due to very unfortunate circumstances they couldn't get back in touch until now. I am so happy I can actually unite the portrait with it's rightful owner after all this time. Here is the handsome chap, I was really proud of this painting and just delighted.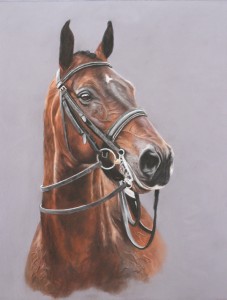 A full sized view of the portrait can be viewed in my gallery
Today I have been full of cold as I suspected I would be, and I have been busy framing two portraits. Both horse portraits funnily enough. I will be uploading photos of the framed portraits as soon as I can, but the light has gone now so it will have to wait until tomorrow. Framing is one of those funny jobs that can either take 30 minutes for each painting or hours depending on the size and how many specs of dust get caught under the glass! I am very OCD over this job as I am a perfectionist and I want to make sure everything is perfect for my client. Today has been the latter! Typically, but never mind, it's all worth it! I shall be returning to some evening painting shortly.
Well today, what can I say about today, I feel like rubbish. I have a nasty cold. Again. Second one in a month, right at my busiest time of year. I can assure you if it wasn't so busy I would be lounging in bed under a pile of snotty tissues right now, but sadly not!
I barely slept last night so gave in and got up at 6am. Managed to do an hours work and went back to bed for a couple of hours. I still didn't sleep much but managed to drag myself up and do some work. I continued with my framing and packing jobs today. Something that doesn't take too much concentration. I framed Cruz and packed up Apples portrait. Hopefully both will get posted tomorrow. I did manage to start Steffi's portrait too. I had hoped to a time lapse of the whole portrait, but I have been working inside today as it's easier when I don't feel so great. If I feel better tomorrow hopefully I will be able to get into the studio, but at the moment the priority is getting the work completed for my clients. I do have a couple more that are potential time lapse pieces, so I will let you know and you can follow those.
6/12/18
Unfortunately I didn't feel an awful lot better today. I managed to get Cruz's portrait packed up and posted today and also Apple's. It is actually quite hard work packing up pet portraits to go out, particularly the large ones and even more so when you feel really poorly! However there is a little more space in my tiny cottage now! It's an early night for me. I have the lab portrait to pack and post but that will be posted Monday now and I am hoping I can get some good painting done over the next few days as I am beginning to miss it now. Feeling better will help, so fingers crossed I do tomorrow!
I am having a play with new way to edit and add things to my website. Blog posts seem fairly easy. Actual pages are a little harder. I can't work out how to edit original text and insert images! Hopefully I will work it out. Adding links….. Haven't tried that yet…. I am about to attempt to link to the blog post where I talk more about it here.
OK it doesn't seem to want to find the right link using my phone but it's working on the laptop, so when I edit things on my phone in the evening I must remember to add the links from my laptop. Probably just a glitch. We shall see. I am sure things will iron themselves out!
I am not going to lie, this bug is still making my life difficult. Mainly exhaustion and a nasty cough now. It has put a stop to my nordic walking for this week. Maybe the work out walk on Thursday. That will be a tough one after nearly two weeks. I will get out with them at some point this week with the dogs, if I feel well enough. Unfortunately the lost time with this nasty bug means I need to focus on the time lost and catch up with the pet portraits this week as I am getting tight for time. It's not a problem, everything will be done, I just like to be able to have some time with the kids before Christmas rather than working like a loon and getting everything organised ready to start the New Year pet portrait list. Hopefully sleep will be more forthcoming and I can get up early and make a good start in the studio.
I am finally nearly back to 100%, I have had two good lie ins and they are lie in's for me at 8.30 and 9am! I also managed two good sessions in the studio today and yesterday and you can read updates on both Steffi's blog and Casi and Bryan's blog.
I haven't managed any nordic walking since Monday due to this vile cold and cough and I have to say I was really missing the exercise and fresh air immensely, so today I decided to don my poles and explore some new foot paths I have never explored before. I went all round the back of Star Hill, and it was stunning, the light across the valley was simply beautiful, it was lovely to take in the countryside by myself. I was bad and I didn't even take my dogs. actually to be fair there is a good reason for leaving them behind. As it was a new walk and I was unsure of any sheep grazing I decided to leave them. Luke would chase them if given even half a chance and I didn't want to risk that.
Here are some photos from my walk. This is actually part of the North Downs walk. Perhaps when I am fit enough I might attempt it. It's over 100 miles I believe so I won't do it all in one day that's for sure!